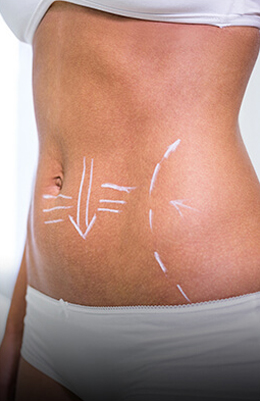 Full or Mini Tummy Tuck, What's Best for Me?
Though diet and exercise are essential steps towards losing excess fat and improving abdominal muscle definition, they may not be successful for some individuals. In that case, tummy tuck surgery is excellent for removing the last bit of stubborn abdominal fat while also tightening skin and enhancing muscles. Alternatively, if you are unsure about surgery for your entire abdomen, a mini tummy tuck procedure may be a better choice.
Therefore, during a consultation, many patients ask questions along the lines of, "Full or mini tummy tuck, what's best for me?" Deciding on the correct tummy tuck procedure depends on your ideal results, the areas struggling the most with excess fat, and the condition of abdominal muscles. Schedule a meeting with Dr. Yaghoubian at AESTHETICA LA to discuss the differences between a mini and full tummy tuck procedure and what is best for your specific situation.
Unique Aspects of Full Tummy Tuck Surgery
Primarily, when deciding between full or mini tummy tuck surgery, what is best for a patient depends on where extra fat is on the abdomen. Typically, most patients choose a full tummy tuck procedure because it targets the entire abdomen, extending from the rib cage to above the pubic area. The surgery removes more of the excess, loose skin that remains after substantial weight loss than a mini procedure does.
The full procedure is a better-suited choice for patients whose abdominal muscles are either weakened or separated during pregnancy. However, since a full tummy tuck makes more significant changes to the skin and muscles, the recovery time is a few weeks longer. In addition, patients could have more severe side effects during recovery and more significant scarring afterward.
Unique Aspects of Mini Tummy Tuck Surgery
Similarly, a mini tummy tuck procedure removes extra fat and loose skin from the lower abdomen, specifically between the belly button and pubic area. The surgery could tighten abdominal muscles in this area for improved physical functioning but the effects are typically not visible. Therefore, when deciding between a mini or full tummy tuck, the best choice for individuals with localized fat on the lower abdomen is a mini procedure.
Notable advantages of a mini tummy tuck include the shorter recovery period and less significant abdominal scarring after surgery. However, the procedure does not repair any abdominal muscle damage resulting from pregnancy or reposition the belly button after considerable skin stretching. Due to this, fewer people choose a mini tummy tuck surgery than a full procedure but they enjoy similar long-lasting enhancements.
Consider All of the Factors Before Deciding Between a Full or Mini Tummy Tuck
When deciding whether a full or mini tummy tuck is best for you, the answer depends on your cosmetic concerns. Specifically, the primary differences between the procedures are the abdominal areas they target and whether they could make muscle enhancements. A full tummy tuck is an appropriate choice to remove excess fat from above and below the belly button, and tighter abdominal muscles.
Alternatively, consider a mini tummy tuck if you want to focus on slimming your lower abdomen, have a shorter recovery period, and have less visible scarring. With either choice, patients see noticeably tighter skin, defined body contours, and a slimmer waistline for the long term. Schedule a consultation with AESTHETICA LA to discuss your cosmetic goals and the best procedure for achieving them.